Onwards is an evolving ecosystem brilliantly designed as a creative cowork environment, built for experimentation, personal development and growth.
With open plan studios and private office suites, our unique Newcastle warehouse is a supportive environment for working, connecting and building strong friendships under a common roof.
We're focused on being an energetic and innovative studio aiming to support local, national and international creatives through exhibitions, creative collaborations, live music and heartfelt gatherings.
Join a studio of overly productive designers, typographers, artists, illustrators, animators, photographers, creative writers, and more that connect with a worldwide community of creatives.
Unlike most co-work spaces we offer so much more than the average practice of just selling you a desk.

Instead, we share a carefully selected group of alternative and talented individuals from diverse creative backgrounds that are the core of our strong community.
Incredibly smart, talented and motivated with a variety of skill sets that you can learn from and collaborate with to create exciting opportunities.
We're a studio founded by artists with the sole purpose of supporting our fellow creatives. We're nothing like the generic co-work model managed by a generous serving of greed with a side of trying to look cool.
We've all been too close to these environments and understand their one and only goal. This is why you're not just another number with us.
You're an integral part of the community.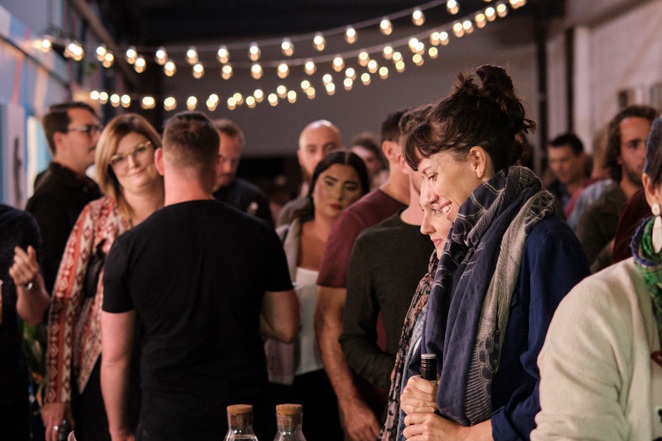 WORKSHOPS & SHORT COURSES
We connect through creative talks, exhibitions, live music events, monthly studio breakfasts, casual gatherings and intense table tennis rallies.
• High Speed Wifi
• 24-7 access with keys allocated
• Meeting areas with Chromecast
• Air Conditioning + Heating
• Open plan warehouse
• Equipped kitchen and lounge
• Sustainable Coffee Pods and Tea
• Monthly fruit box delivery
• Shower facilities with lockers
• Free parking one block away
• Client and customer parking on site
• Space for events, workshops and more
• Recreation area with Table Tennis
• Communal lounge and dining areas
• Dog friendly
24-7 access.
High Speed Wifi.
Desk, Lamp and Storage Provided.
$90 PER WEEK
24-7 access.
High Speed Wifi.
2 Desks, Lamp and Storage Provided.
$220 PER WEEK
24-7 access.
High Speed Wifi.
4m x 3m artist and maker space.
$95 PER WEEK
24-7 access.
High Speed Wifi.
4m x 2.5m artist
and maker space.
$85 PER WEEK
Ask us about altering our private studios to fit more desks and additional storage.
ENQUIRE
Onwards Event Space caters to a world of incredible possibilities. Exhibitions, Pop-Ups, Food nights, Creative Talks and so much more.
Our members have been involved with curating grand events for way longer than Onwards Studio began. We've been running everything from renowned creative conferences, custom workshops, exhibitions, cultural events, live music nights, film screenings and more for over a decade.
With so many successful projects and ideas that have been achieved over the years, we know how to cater to your needs.
Apply today and start making your ideas and goals come to life.
Onwards Gallery is a platform that is designed to specifically support artists by giving them 100% of sales.
Our 'No Commission' Gallery is a much different model to your common white wall exhibition space. Stunning hardwood timber columns, surrounded by rough white cinder block walls create an unusually inviting setting.
We embrace and share our unique environment for exactly what it is. A welcoming and unique warehouse to share with upcoming and established artists.
Our gallery hire rates a more than reasonable with our one night/one day run time. Please send an application for the opportunity to exhibit with us and find out more.
We've taught courses in just about every kind of venue imaginable. Schools, Universities, creative spaces, abandoned warehouses, car parks, music festivals and even London's Borough Markets.
This is why we know exactly what you need. Onwards Studio founder Brett Piva has been touring his custom designed courses and workshops across Australia and abroad since 2013.
Having shared knowledge in many venues, colleges and open spaces in various cities, we'll allocate so much to make you and your guests comfortable. Most of all we'll put everything in place to make your class run smoothly.
If you have a short workshop or multi-week class you'd like to share, we have the perfect venue for you.
Please share your workshop ideas below.
Connect
hello@onwardsstudio.com.au
6 Torpey Place
Hamilton, NSW Australia